One of the first meals I ever tried to cook for Jason (aside from tacos or spaghetti) was orange chicken with wild rice and a green vegetable (can't remember the veggie!). I was so excited to cook something new and even better it was from a new cookbook I had gotten from my mother in law. I can still remember the feelings of pride I had cooking for Jason. I can also still remember the look on his face when he cut into his massively undercooked, basically still raw, orange chicken. It was a disaster. Sometimes it is hard to believe that I am that same person who couldn't even cook chicken all the way. I mean, don't most new cooks burn things?
Anyway, here are a few new things I have made recently.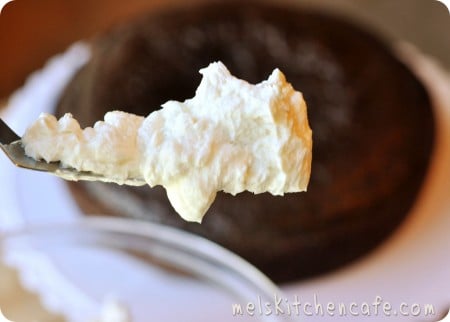 I love Mel's Kitchen Cafe. I have found great recipes there. My
broccoli cheese soup
recipe is from her also. So, when Jason requested I not make buttercream for Isabelle's birthday cake, I looked at her site for frosting ideas. At first glance, this recipe does not seem worth all the work required, but trust me it is. This was seriously the best frosting I have ever had. My only recommendation is to follow the recipe EXACTLY. Don't try to cut corners with this one or you may be disappointed. Also, if you like super sweet frosting, you might as well just stick with a can. This one will not be for you!
This is a great and easy to prepare meal for the whole family. Everyone in my family loves it. It doesn't take long, has simple ingredients and works great for our meatless nights!
You didn't think I would start off the new year and forget to mention PW did you???
I did a few things different. I did not use a whole chicken because I only had breasts. So, I used two chicken breasts. I also did not use the water from boiling my chicken for the base of the soup because, well, I did not boil a whole chicken! So, instead I used chicken broth from my pantry. I also did not use near the amount of onion she did because I am an onion hater. I did not have white pepper so I used black, and did not have turmeric either so just left it out. With all the changes it still turned out absolutely delicious!!! My kids were only slightly impressed, but they ate it so I consider it a win. Jason and I loved it.
Lastly, a recipe I think you need to go make NOW.
This recipe comes from probably my all time favorite blogger,
Jami Nato
. Haven't heard of her? Go read her entire blog then come back and make bread. Or, make the bread and eat it while reading her whole blog. You'll laugh, you'll cry, you'll love her, you'll get a great bread recipe. And if you're anything like me you will wish that somehow, someday, you might get to meet Mrs. Nato in person.
Okay, back to the bread. You will need a bread maker, but you won't cook the bread in the bread maker. You will only use it for the dough cycle. You will also need a loaf pan to bake your bread. I won't lie. After reading about hair in bread (don't believe me, google it) I was compelled to at least try to make my own. I was pretty sure I was on the right track after the second rise. The dough was so BIG and looked so promising. After baking it and having the smell of fresh bread fill my house I could hardly wait to taste it. After waiting the five minutes after taking it out of the oven I cut myself a slice. WOW. Like, WOW. It. was. so. so. so. good. I honestly could not believe that I made bread that tasted that good. Now, I can't stop making bread. Easy, cheap, delicious. I think I might make more today.
There you go, four great recipes that seriously, you should make. No excuses. They are all so tasty. And if you think that maybe you don't have the skills to make some of this food, just look back at the beginning where I mentioned the chicken debacle. If I can do it, so can you!